Example 1 How to Make a Basic Movie

This example will show how a basic Flash Movie is created. The Movie will be a simple pan and zoom from a wide angle shot to a close up of the man's face. The files associated with this example may be downloaded by clicking on the download icon. The files are contained in a self extracting .exe so simply click on the downloaded file and the test files and resulting SWF file will be loaded into your selected directory. Click on the Download Icon to download the Example 1 files.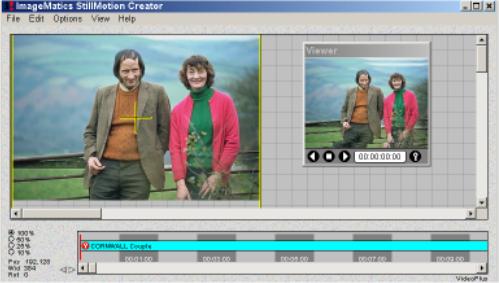 Step 1 From the File Menu the Load Image selection is picked. The image file is then selected. Here Cornwall Couple.tga is the selected file.
Figure 1 shows the ImageMatics StillMotion Creator™ screen after the image is loaded.
Note:
• The Camera Window covers the entire Stage.
• The entire image is shown in the Viewer
• The Viewer Time Frame Indicator shows 00:00:00 (the start)
• A KeyFrame is inserted at the start of the Timeline and the name of the image is shown on the line
• The Timeline indicator is positioned at the load point (00:00:00)
---