Help Menu
The Help menu provides access to the Help and tutorial files, provides unlocking (registration) of the product and contains the copyright and version information.
Contents: Selecting Contents provides access to the instruction manual.
Registration: Registration provides the means of removing the Demo Line from ISMC created output. ISMC is locked to the PC it is loaded on, every PC generates a unique ID code. As part of the purchase process you where prompted to enter your unique ID code and you will have received an e-mail containing the unlock code.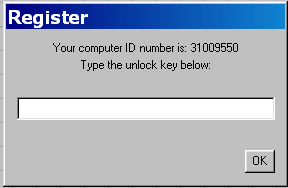 Enter the Unlock code in the Registration field and click on the OK button. The red line will no longer appear in future output.
[ File | Edit | Options | View | Help ]