Slide Properties
The visible attributes of each slide are controlled in the Slide Properties Sheet (dialog box) shown below. Transition effects, trimming, adding text labels, backgrounds and editing are controlled by selecting the appropriate tab. Each tab provides access to the appropriate Properties Sheet, which contains all the controls for customizing a slide show. Slide Properties Sheets are provided for Transitions, Show, Edit, Label and Sound.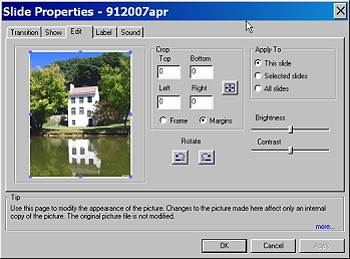 The Transition Tab controls the special effects available between slides

The Show Tab controls the time each slide is shown for and provides the option of having the image "panned" while being viewed.

The Edit Tab provides access to the StillMotion basic editing functions which support cropping, rotation, and brightness and contrast adjustment of individual images

The Label Tab provides control of captioning of individual slides and includes font selection, color, size, alignment and placement.
The right column of the of each Properties Sheet contains an Apply To list of buttons. The buttons select what the choices selected in the Property Sheet apply to. Choices include:
This Slide, effects only the currently selected slide

Selected Slides, effects the group of slides selected (highlighted)

All Sides, effects all slides in the show

New Slides, effects the slide or slides designated by the a selection above and all slides added in the future
Specific Property Sheets include additional selection specific to each Sheets function.
Related Topics: