Slide Sound Properties Tab
The Slide Sound tab provides the control and creation of sounds associated with individual slides.
The Slide Sound properties tab is shown below: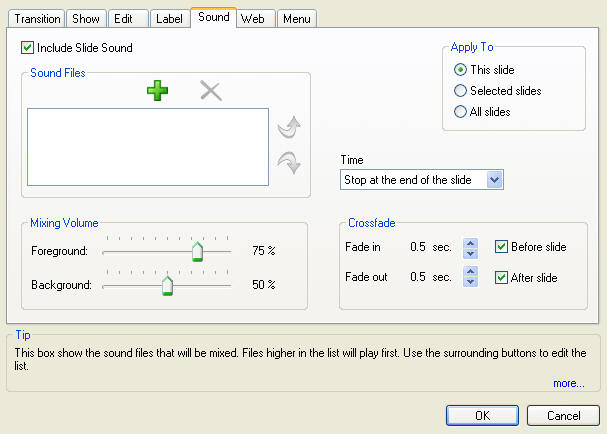 Checking the Include Slide Sound checkbox will enable sound for the slide.
The Sound Files panel, provides for the addition ordering and management of sounds to be included within an individual slide.


Sound Files panel

Sound File Panel with sounds added and the
middle selected
The green Plus sign is clicked to enter the sound list. When the plus is clicked a normal file dialog will appear to browse for the files you which to add.
The "X" next to the plus will delete any selected file.
The arrows on the right of the list box are used to move a selected sound file up or down in the list.
The description of the Sound Property tag is continued CLICK HERE for the next page.