Show Slide Properties - Web Tab
The Slide Show Properties Web tab controls Web actions associated with the entire show, and management, and creates an action for the Slide Show when it completes. The Slide Show Properties Web tab is shown below.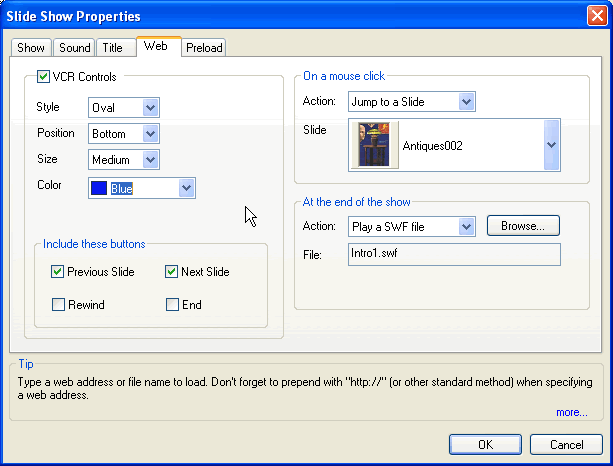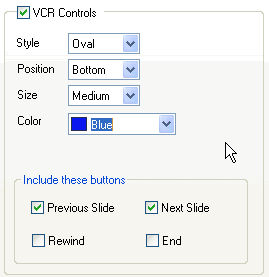 The VCR Control Panel provides creation and addition of VCR controls to a movie. VCR controls are not in added when a movie is published as video.
Checking the VCR Control box causes the panel to be activated and will add the VCR controls created to the movie.
Style, Position Size and Color provide the attributes of the selected VCR controls.
The options supported are as follows:
Style

: The button shape

Bar

(provides buttons in a horizontal solid bar,

Rectangle, Square, Oval

and

Round

all determine the control shapes.

Position

: Determines where on the slide and the orientation of the VCR controls selected. Top and Bottom create horizontal button arrays while Left and Right create vertical button arrays.

Size

: Specifies the relative size of the VCR controls the Selections are large Medium and Small

Color:

Provides access to a color selection menu to set the VCR control color.
The image below shows a slide show screen with all VCR buttons selected, as Round, Medium, Bottom and Blue.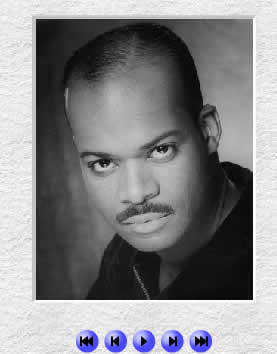 The Include these Buttons panel checkboxes determine which VCR controls are included. Pause is always present if the VCR control is selected.
The On a Mouse Click window on the Web Tab adds actions to the movie.
The actions are initiated when a viewer clicks on the movie.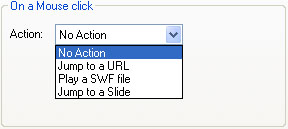 The actions include:
Jump to an URL Gets the URL specified, this includes going to a web location, initiating a download or launching another media defined by the URL
Play an SWF File This will load and execute a new Flash (SWF) movie. The SWF can be on the web, a local machine or on a created CD ROM.
Jump to a Slide the movie will immediately jump to a selected file in the show.
The at end of show panel determines the action taken when a slide show is completed.

The choices are consistent with other Web actions. They are:
Jump to a slide
Get a URL
Play and SWF file
No Action
Each of these action specifies have additional dialogs and choices associated with them. Click on the Action name for a full description of each.