Slide Properties
Slide Properties are functions that are associated only with single slides. Text, added graphics, buttons, transitions etc are example;es of slide properties. Slide Show properties are attributes that effect the entire project. Movie size, background color, VCR controls, etc are examples of Slide Show properties.
Double clicking on any slide or selecting Slide Properties from the Edit menu will bring up a tab view of all the slide attributes.
The last tab viewed is exposed when slide Properties are selected.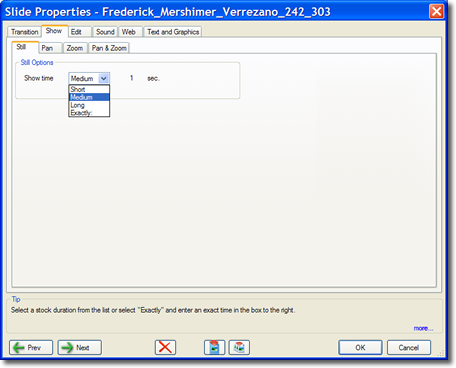 The Show tab showing all the available Slide Property tabs.
Tab
Description
Transition
Define inter slide transitions
Show
Slide behavior, duration pan and zoom
Edit
Cropping, levels, file location
Sound
Narration and slide sound effects
Web
Local variables and slide actions
Text and Graphics
Text, graphics, and multimedia compositing
Click on the Tab name for a full description.