Creating Self Playing Shows
A Self Playing Show is the combination of an SWF movie associated with its own player. Creating a Self Playing how creates a self extracting (.exe) file which when clicked on will launch the created movie playing in a stand-alone player.
A Self Playing Show may be e-mailed, added to a floppy (size permitting) disk, a CD Rom or downloaded. The recipient needs only to click on the file to view the movie. Self Playing Shows are the easiest way to send movies to friends, family and colleagues.
Below is a movie / player combination created from slide show titled Chris 1.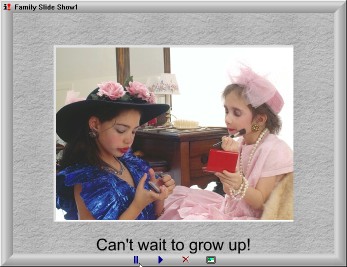 The controls at the base of the player, from left to right are pause, play, exit and Full Screen. Selecting Full Screen will hide the player frame and controls. Moving the mouse to the bottom of the screen will pop up the controls. Hitting the escape key will exit full screen play.
To create a Self Playing Show select Publish from the File menu and then select Self Playing Show.
The Self Playing Slide Show dialog will appear. This is a standard file box that will specify the name and location of the Self Playing Show .exe file. After a name and location have been entered the Self Play Option dialog appears. Selecting the Full Screen selection box to appear will have the Auto Play file start up in full screen mode.
The movie is rendered and the .exe file is created from the current slide show. The rendering process can take a while for a long show with a large sound file.
When the creation of the Self Playing Show is complete a dialog appears asking if the Show is to be played immediately or not.
If selected a Player similar to the one above will appear with the name of the slide show in the upper left hand corner. If immediate play is not selected the file is saved you are ready to more with the program.