Registration Instructions PE, PE+,WD and WD+
After you install your software you will need to register it to remove the demo bar in your shows.
You must be on-line to register the software.
Step 1 When you run the ImageMatics software you will be presented with a Registration dialog as seen below.
<![if !vml]>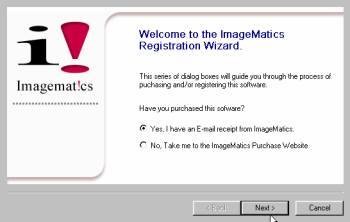 <![endif]>
Registration Wizard Welcome Screen
If you do not get the Registration Wizard or if this is a re-registration then click on the Help menu and then Purchase / Registration. This will launch the Registration Wizard shown above.
You have received a receipt from us, a copy of which is enclosed so select Yes as shown above and then click on Next.
Step 2. Registration. The registration screen is shown below.
<![if !vml]>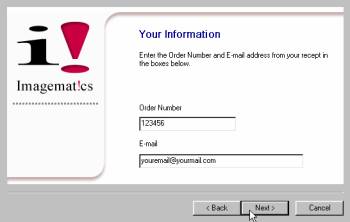 <![endif]>
Registration Screen
Enter your Order Number in the order number field and the e-mail address that was entered when you purchased the software. Both of these may be found on the copy of your purchase receipt, which is enclosed.
Step 3 Registrations Complete After successfully completing Step 2 you will be presented with the screen below. This completes your successful registration. Click on Finnish to enter the program.
<![if !vml]>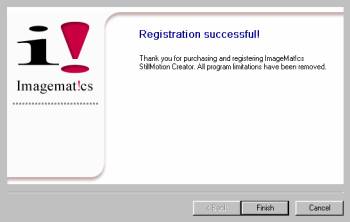 <![endif]>
Successful Registration Screen
If a problem was detected in your registration you will receive a dialog with an unsuccessful registration notice citing a cause for the incompletion.
Click on the Back button to return to Step 2 to re-enter your registration data. If you can not successfully register please contact support at support@imagematics .com or call 301 530 0677 for help.