Creating Web Pages
Creating a Web page is selected from the Publish menu found under File.
A menu selection provides choices of selecting SWF, Screen saver, Self Playing Show and HTML page as output choices. The Publish menu selection is shown below.
<![if !vml]>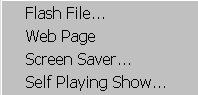 <![endif]>
A Standard file dialog box will appear prompting for a name and location to be given to you HTML Page.
The default name will be the name of the slide show you are working on. If the name of the show, for example, is "MyShow' , then an HTML page titled MyShow.htm will be created.
MyShow.htm will display MyShow.SWF, the SWF (Flash) file of your slide show.
The HTML page will assume that the SWF file and HTM files are to be located in the same file or Web directory.
To view the created HTML page point your Internet browser at it or double click on the file name of the HTML page.
Use whatever Web publishing software you have to copy the HTM and the SWF file to your Website. Make sure they are both in the same directory.